Cooperation with the University of Applied Sciences for Police and Management
Since winter semester 2015/16, RheinMain University and the University for Police and Management are working together to give students more possibilities regarding sports. As a result, the sports program is more diverse and students have access to more sports facilities. It is also possible to form joined teams for national championchips and tournaments. The goal is to create better conditions for student athletes and the organisation of tournaments.
Partner university of leading athletics
RheinMain University was the first university of applied sciences in Hesse to sign the cooperation agreement "partner university of leading athletics" with its two partners, the Olympic Center Hesse and the State Sports Association Hesse and the German University Sports Association (adh).
The agreement aims to enable leading athletes to compete as athletes while getting an academic degree at the same time. As far as possible, study-related organizational and scheduling problems that arise from the athletic responsibilities of the students will be eliminated or mitigated.
For more information, go to the
cooperation agreement (PDF 103 KB, in German only)
resolution of the German parliament on promoting leading athletics at universities (PDF 87 KB, in German only)
leading athletics at universities (PDF 215 KB, in German only) - joint declaration of Standing Conference, the Sports Minister Conference, the German Olympic Sports Federation and the German Rectors' Conference
German University Sports Association (adh)
latest adh competition and training events:
national competitive sports
seminars - workshops - trainings
Our sports cooperations
German University Sports Association (adh)
German Olympic Sports Federation (DOSB)
Sports Federation Hessen
We would like to thank the following sports clubs and organizations for their support:
SV Sauerland e.V. - Fussball
Judo-Club Wiesbaden 1922 e.V.
Golfclub Idstein
Greenletics
Papillon Flugschulen Wasserkuppe
Unitanz Mainz
Rasensportclub Wiesbaden - Hockey
Schützenverein Burgfalken e.V. - Bogenschießen
Studisurf
TG 1862 e.V. Rüsselsheim - Volleyball
TUS Dotzheim e.V. - Handball
TV 1890 e.V. Rüsselsheim/Hassloch - Segeln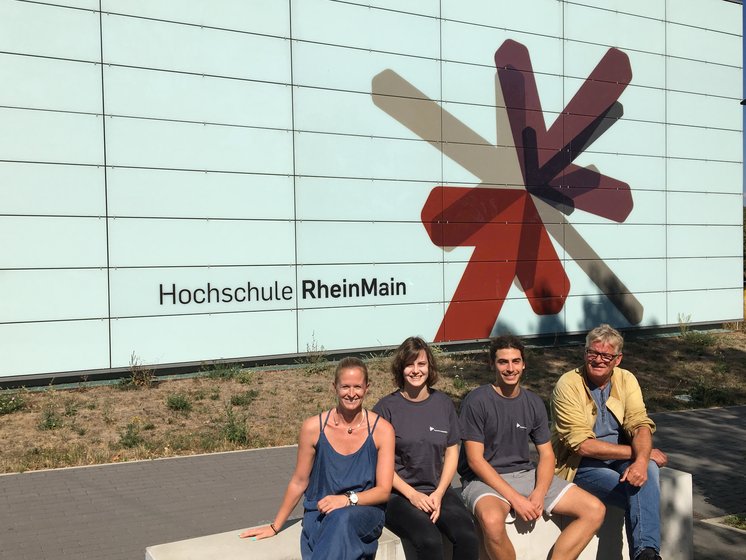 Head of University Sports
Klaus Lindemann
E-Mail: klaus.lindemann(at)remove-this.hs-rm.de

Staff Member
Meike Kaltenbach
E-Mail: meike.kaltenbach(at)remove-this.hs-rm.de

Student Assistants
Maximilian Hasenstab & Rhea Aull
E-Mail: hochschulsport(at)remove-this.hs-rm.de

Office Campus Wiesbaden
Kurt-Schumacher-Ring 18,
65197 Wiesbaden,
Hochschule RheinMain,
Building C - Room 2.04
Phone: +49 611 9495-1580 oder -1582
Fax: +49 611 9495-1581
Opening hours: Mo - Fr 10:00am - 03:00pm
Office Campus Rüsselsheim
Am Brückweg 26,
65428 Rüsselsheim,
Building A, Room A016
Opening Hours: by appointment only

Feedback
If you do not like something at the university sports or if you have any input, please contact the university sports office directly. Our effort is to adapt the university sports to the nees of all university members. We are grateful for any suggestions.

Folllow us on Facebook
You like the university sports of University RheinMain? Follow us on Facebook! You can find the latest news and pictures of our sports activities here.
Team University of Applied Sciences for Police and Management
University of Applied Sciences for Police and Management
Schönbergstraße 100
65199 Wiesbaden
Contact / Coordinator for University Sporty & Competitive Sport
Christoph Zinner
E-Mail: hochschulsport(at)remove-this.hfpv-hessen.de
Sport Department
Philip Jüttner