PROPAEDEUTIC COURSE FOR REFUGEES - WELCOME@HSRM
Propaedeutic Course for Refugees - Welcome to HSRM
Starting in summer term 2018 the RheinMain University of Applied Sciences is offering a propaedeutic course for refugees. This is a one-year program that aims to prepare refugees for their studies in Germany. Within this program the students will participate in intensive German language courses, lectures and preparatory workshops. The project office for refugees will inform the participants about their future education possibilities and will accompany them until the start of their studies. Additionally, a social framework program will facilitate the participants' start at the university to manage every day's life.
The participation of "Welcome to HSRM" is largely free of charge.
Target Group
The program is addressed in particular to refugees interested in a study program, who own a direct or indirect university entrance qualification (Abitur). Furthermore, the applicants need to prove German language skills of level B1 or better.
Program objectives
The participants will be prepared to successfully participate in the DSH-Exam (Deutsche Sprachprüfung für den Hochschulzugang) and taking up their studies in Germany well prepared.
Structure
The program Welcome to HSRM extends over 3 semesters. The program will extend from March 2018 until July 2019 if it starts in the summer semester 2018. It will extend from December 2018 to mid-January 2019 if it starts in the winter semester 2018.
The program Welcome to HSRM consists of four steps - from the language and study preparation to the start of the studies.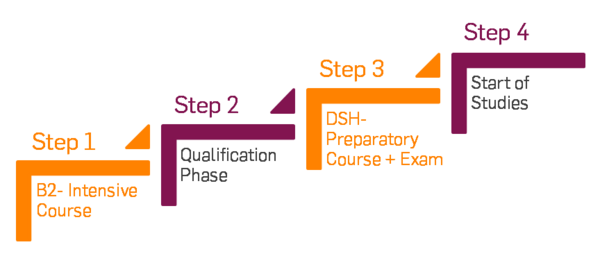 Steps
Step 1: B1+ and B2 German Intensive Course
Duration: 3 months
Scope: 24h/week
Step 2: Qualifying Phase
Visiting of lectures and propaedeutic workshops
Duration: 4 months
Scope: 40h/week
Step 3: DSH-Preparatory Course
Duration: 3 months
Scope: 24h/week
Step 4: Start of Studies
Duration: at least 1 month
Scope: 10h/week
Each step is accompanied by further measures. The complementary elements of the program Welcome@HSRM are:
Application procedure
1. People interested in the program must attend an information evening
Rüsselsheim - Wednesday 04.07.2018 - 18:00 o'clock
Am Brückweg 26 - Building A - Room A108
Wiesbaden - Tuesday 10.07.2018 - 18:00 o'clock
Kurt-Schumacher-Ring 18 - Building A - Basement floor - Foyer
2. Afterwards, an application document - which will be sent to everyone interested in the program after the information evening - must be filled out and sent to our coordinator Manik Chander.
3. Finally, people interested in the program will make an appointment with Mrs. Chander in the time from 11.07.-10.08.2018.
Contact person: Mrs. Chander