Technical equipment
The course's modern facilities include a live studio, numerous cameras and over 42 editing workspaces, and enable students to apply knowledge gained from exercises, field trips and a project semester. Working in teams, students use the facilities to develop new media formats from the initial idea to the complete production and public airing at the "Media Showroom Night". In October 2016 the degree course staff and facilities moved into new office space at the Unter den Eichen campus and will therefore have the opportunity to bring all workspaces closer together on one floor.
Studio
On 95 square meters, the HD-capable studio allows the recording of TV shows and production of films scenes under realistic working conditions. Besides the studio, the student production teams can also use a video control room. Being trained in a studio provides the students with another practice-oriented qualification.
The technical equipment allows for the following production options:
Live production from the video studio with studio cameras and different playback devices
Offline post-production
Stand-alone operation with its own audio mixing unit or live streaming
Interconnection with the sound control room
Digital audio control for applications such as:
live mixing, recordings from the video or sound studio
audio support for the video control room
post-production
sound effects for multi-media production
MIDI-based production of music with live elements


Audio-Visual, Film & Video Production
The audio-visual, film and video production labs are all equipped with several editing workplaces for non-linear video-editing and post-processing of audio-visual productions. The range of Adobe software includes all the important programs for designing and processing images, pictures and sound.
Adobe Certification for our colleague Thorsten Rosche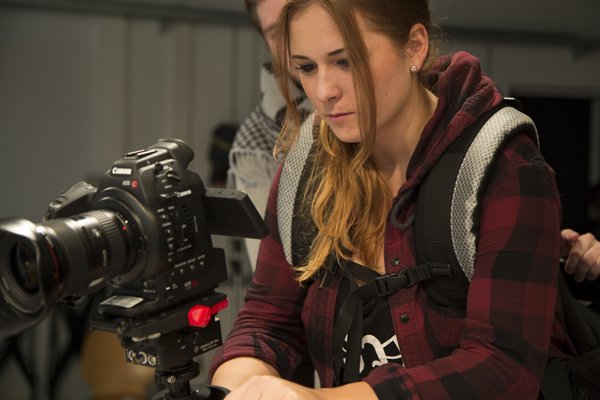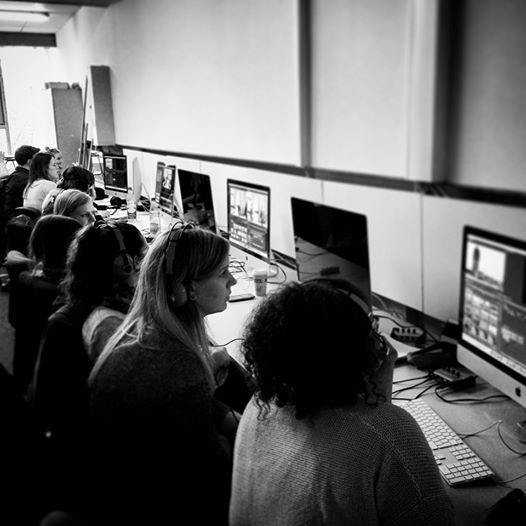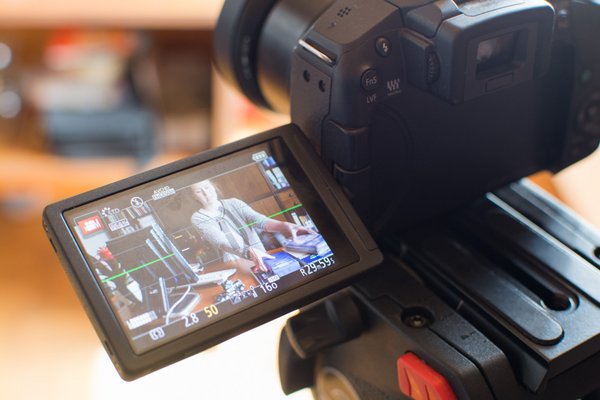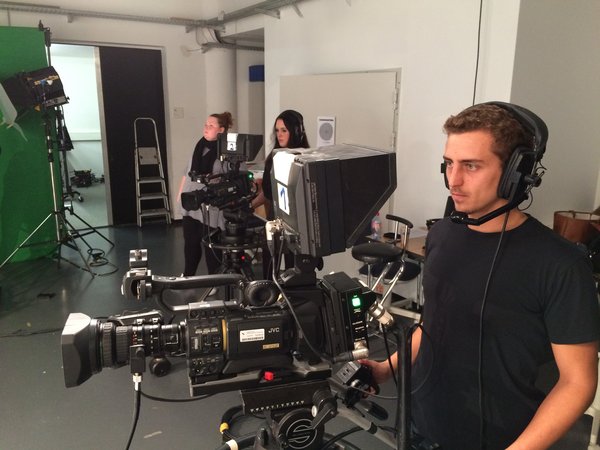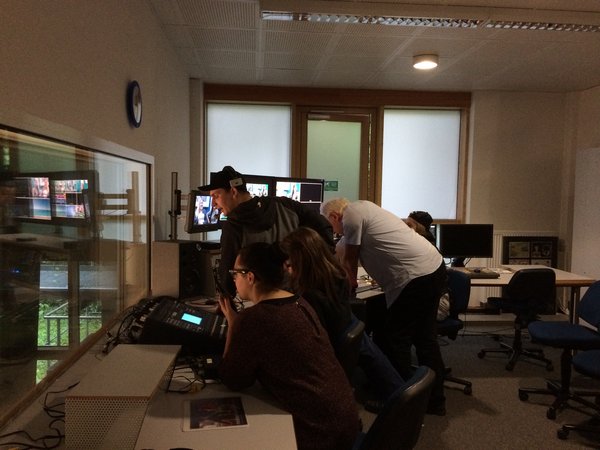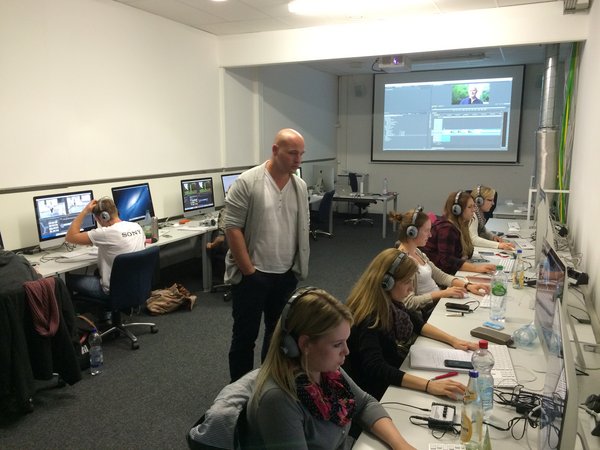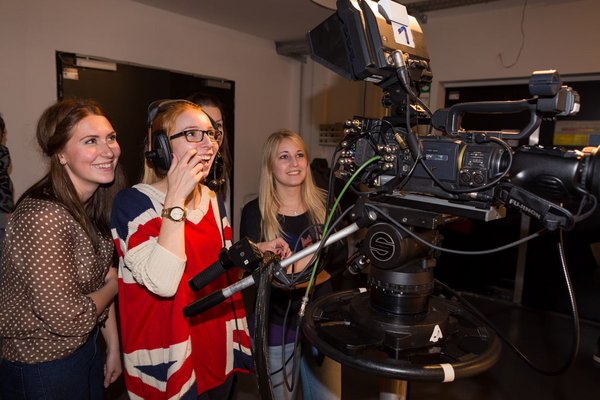 An academic degree program and practical training go hand in hand in the Media: Conception & Production course. Prof. Wolfgang Schiffler, an initiator of the course: "The degree program is the perfect symbiosis of practically-oriented studying and design and technology-related knowledge." Besides the university's professors, experienced adjunct instructors from journalism, film production, event management or media law hold lectures and supervise practical work.
The standard period of study is six semesters.
Applicants who have successfully completed a media apprenticeship may apply to have it recognized in lieu of the first two semesters.
In the first semester students learn the practical basics over three modules.
The second semester is divided into seminars and an internship.
The third semester teaches broad-based theoretic and specialized knowledge in design,
During the fourth semester theory is linked to practice in the area of event management and media production.
The focus of the practical module is on the design and creation of new media formats and media productions. The presentations take place at the end of each semester at the well attended Media Showroom Night. Numerous examples of work can be seen here: www.media-showroom.de
In the fifth semester students can study at one of the course's many partner universities. Alternatively students can opt for an internship abroad. During this time, students write two academic papers in the area of design and technology.
The sixth semester consists, in equal parts, of a practical final piece of work and an academic paper (Bachelor's thesis). Students' final pieces of work is often carried out with partners from industry. Support is provided for experimental work that examines or researches innovative media productions.
The Bachelor's degree in Media: Conception & Production consists of a total of 15 consecutive modules. Details can be found in the Examination Regulations.
A detailed overview of the individual modules can be found in the module handbook. Subject to change.
Courses for Incoming students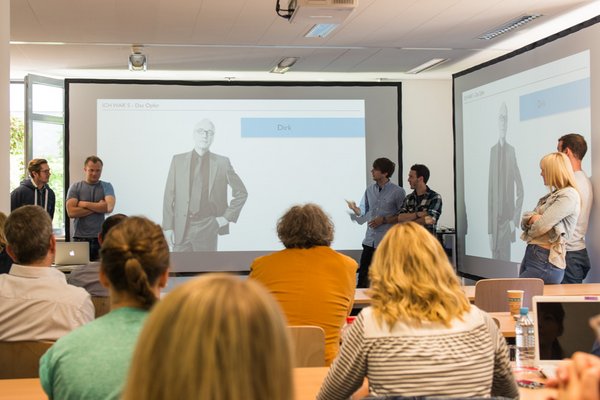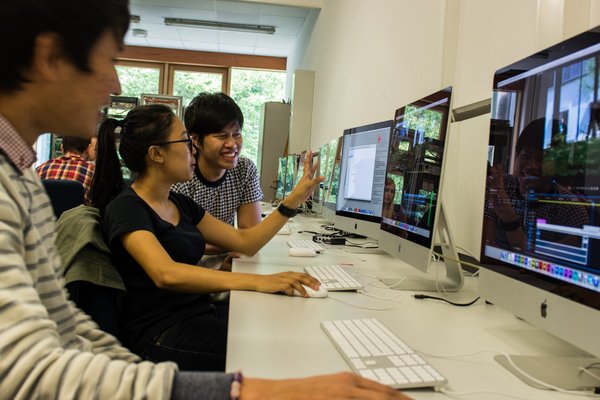 During our fourth semester, we offer a selection of English language courses for international students from our partner universities.
The focus of the practical Media production module is on the design and creation of new media formats and media productions. The presentations take place at the end of each semester at the well attended Media Showroom Night. Numerous examples of work can be viewed here: www.media-showroom.de
Flyer for INTERNATIONAL STUDENTS
Here you find a description of the courses. Download English Courses
For further informations to apply for a semester at our program at RhineMain University please contact our International Office.
Media: Conception & Production International
Content producers bear a high responsibility in the boundless world of opinions and media. Content, technologies and markets are increasingly impacting each other across the world. This makes looking beyond one's horizons all the more important – not only from an academic, but also from a personal perspective. What's more, having intercultural skills is a clear plus for the labor market and improves the chance to begin an international career.
This is why a semester abroad is an obligatory component of the Media: Conception & Production degree program.
If you're interested in an exchange or a partnership with our degree program, please contact the Degree Program Head, Prof. Claudia Aymar.
We're involved in the Erasmus program and also have many international bilateral agreements.
Our Partneruniversities:
Europe:
FH Oberösterreich, Fakultät für Informatik, Kommunikation und Medien, Wels Österreich
FH Wien Österreich, B.A. Film-, TV- und Medienproduktion
Hochschule Luzern - Design & Kunst Schweiz/Luzern
HTW Chur FH Ostschweiz, B.A. Multimedia Produktion / Media Engineering
NHTV BREDA University Niederlande, B.A. International Media and Entertainment Management
ESAV / Filmhochschule Toulouse Frankreich
University of Lodz Polen, B.A. Journalism / Department of Journalism and Social Communication
Volda Universität College, Norwegen, Volda, Faculty of Media and Journalism
Universität Católica de Valencia San Vicente Mátir Spanien Valencia, B.A. Studiengang Multimedia y Artes Digitale
Universität REY JUAN CARLOS, Spanien Madrid
Universitat Rovira Virgili Spanien/Tarragona
Universidade da Coruna Spanien/A Coruna
Kadir Has University Istanbul Türkei
Bilgi University Istanbul Türkei
Anadolu Universität Eskisehir Türkei
Yasar University Türkei/Izmir
Isik University Türkei /Istanbul
Worldwide:
University Wisconsin Riverfalls, USA B.A. Film and TV Production
Ramkhamhaeng Universität Bangkok Thailand
ICO NIDA University Bangkok Thailand
Konkuk University Korea/Seoul
Polytechnic University Windhoek, Namibia
Universidad de Mendoza Argentinien/Mendoza
German Jordanian University Jordanien/Amman
Taylor's University/School of Communication Malaysia/Subang Jaya
Taylor's University/School of Design Malaysia/Subang Jaya
Universidad Autonoma Metropolitana Mexico/Mexico City
San Ignacio de Loyola Universidad Peru/Lima
National University of Science and Technology Taiwan/Taipei
Media Showroom Night
The degree course is very practically oriented and places high emphasis on students creating media projects from the initial idea to presenting and airing them. The Media Showroom Night already has cult status for its fantastic presentations that are held during the fourth semester. The students' project partner in the 2015/2016 winter semester was the Wiesbaden Fire Department. Exciting clips to present the Fire Department through audiovisual media were created in a total of 17 film projects. A corporate design strategy with social media applications was also produced. The Media Showroom Night was held on February 12, 2016 in the Wiesbaden Kurhaus hall and was streamed live in the Internet.
The summer semester Media Showroom Night was held on July 15, 2016 at the Unter den Eichen campus. Upcoming Media Showrrom at February 10th, 2017 Unter den Eichen campus.
Current information can always be found on our facebook fanpage and is also announced here.
All the pieces of work can be viewed on our webseite at: media-showroom.de